Episode 48 – Addition By Subtraction
Giving Your Creative Projects Room
1 year ago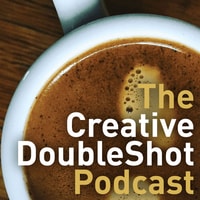 Episode Notes:
If you've ever heard the idiom "greater than the sum of its parts", you know that Frankenstein's monster was a helluva guy. If you've ever heard someone say "less is more", they may have also been talking about Frankenstein's monster. But we digress. In this episode we shamble through the concept of leaving stuff out, not doing too much and provide some real world examples from Jonathan's visit to the virtual Nebula Awards conference. It's a hoot, owl tell you. A genuine hoot. Join us in the trust tree for another exciting episode.
NOTE: We apologize for leaving you, our dedicated listeners, high and dry last week. The truth behind the absence of the Creative DoubleShot last week and the machinations of the podiatric gods shall be revealed when you listen to this week's episode.
This podcast is powered by Pinecast.